Saint Lucia Bureau of Standards (SLBS) and Civil Servant's Association (CSA) Sign Collective Agreement
The Saint Lucia Bureau of Standards (SLBS) and the Saint Lucia Civil Service Association (CSA) have signed a Collective Labour agreement (CLA) in respect of the period ending May 31, 2023. The agreement speaks to the terms and conditions of employment of the Bureau's staff represented within the bargaining unit.
The agreement covers six (6) years (1st June 2017 to 31st May 2023) and reflects a significantly improved document compared to the previous industrial relations agreement.  The SLBS is the custodian of our national quality infrastructure with the organization leading in the promotion of a culture of quality by being ISO 9001 certified and (ISO 17025 & ISO 17020) accredited.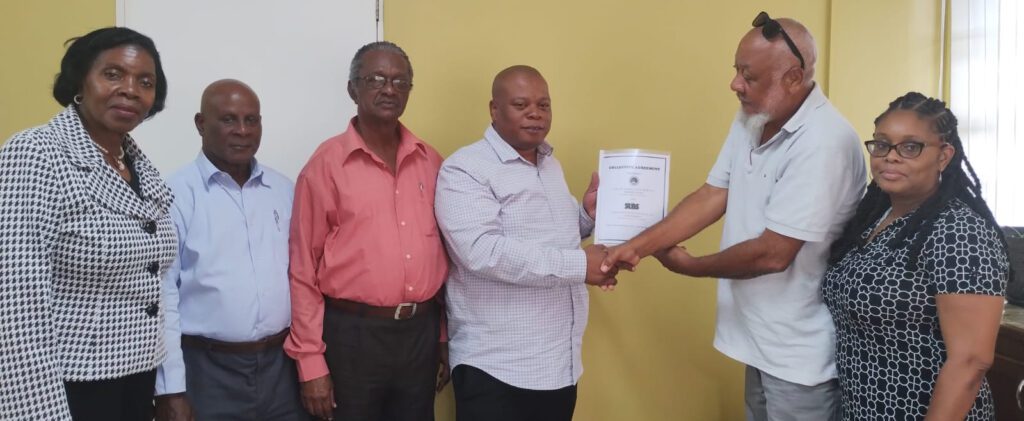 Witnessed by Minister for Commerce, Manufacturing, Business Development, Cooperatives and Consumer Affairs, Hon. Emma Hippolyte, the brief signing ceremony was chaired by Labour Department Official Ms. Felix on behalf of the Labour Commissioner. The agreement between the SLBS and the union details the industrial relations context within which both the employees and the SLBS operate, reflecting the interests of the parties who partner to ensure the success of this essential national organization.
Both Mr. Lawrence Poyotte, who led the union delegation, and Director Verne Emmanuel of the Saint Lucia Bureau of Standards, expressed the expectation that the concluding and signing of the current agreement will be the basis for continued amicable industrial relations between the staff as represented by the union, and the Bureau.