The Saint Lucia Bureau of Standards expands to National Agricultural Diagnostic Facility​
The Saint Lucia Bureau of Standards (SLBS) has expanded to offer metrology services from the new National Agricultural Diagnostic Facility (NADF) at Union. The Facility was officially opened in December 2020.
The Metrology Department began operations at the Facility in June 2021.  The Metrology Laboratory will continue to provide calibration services in the areas of mass and volume, which are within the scope of its ISO/IEC 17025 accreditation, operate from the Saint Lucia Bureau of Standards in Bisee.
The SLBS is the National Metrology Institute and National Legal Metrology Organization of Saint Lucia with responsibility for weights and measures. Metrology is the science of measurement and its application with legal metrology being the application of legal requirements to measurements and measuring instruments.
The new home of the Metrology Department is part of continuous improvement in the delivery of service to customers.  Both locations, at Bisee and Union, will be open to receive clients and service requests.
Information on new telephone numbers for the Metrology Department, National Agricultural Diagnostic Facility, is available on the SLBS website at www.slbs.org.
SLBS advises on Fraudulent Use of the Saint Lucia Standard Mark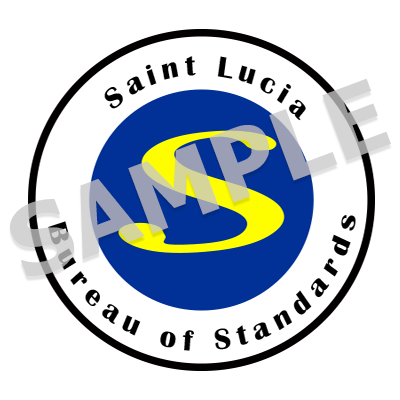 The Saint Lucia Bureau of Standards has begun investigation into an incident of a fraudulent Saint Lucia Standard Mark on a document presented with items imported into Saint Lucia for inspection by the SLBS.
The document was issued to the importer as a certificate of compliance for entry of the goods into the island.  The SLBS has advised importers that it is their responsibility to ensure that the documents being given to them in the course of their transactions are legitimate and meet the requirements for importation of goods into the country.
The unauthorized and fraudulent use of the Standard Mark is in contravention of the Standards Act and persons culpable of this offence are liable to a fine of $10,000.00 and an additional penalty of $1000 for every day of which the offence continues or to imprisonment for 6 months.
The Standard Mark is issued under the SLBS Product Certification Programme and is issued under license as the foundation for conformity to a standard. The Saint Lucia Standard Mark on a product is a quality seal indicating that the product complies with regionally and internationally accepted national standards, and that the supplier maintains an efficient and appropriate quality management system.
The mark is not a trade license and does not replace normal trade regulations.  The sale and issue of the mark by any party other than the SLBS is prohibited under the Standards Act and will be prosecuted.
The SLBS advises retailers to refrain from accepting fraudulent documents in the normal transaction of business and should report such documents presented to them to the SLBS.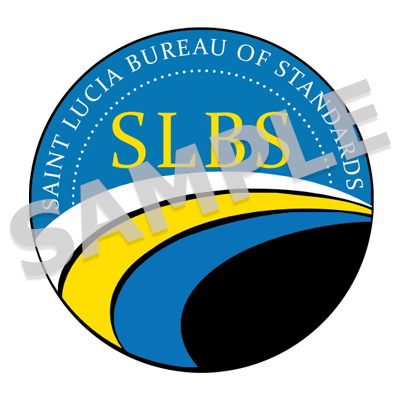 SLBS Compliance Department progresses towards ISO 17020 Accreditation
The Saint Lucia Bureau of Standards (SLBS) Compliance Department which oversees the Compulsory Standards Compliance Programme CSCP, has implemented a sampling scheme in keeping with ISO 2859-1 to facilitate the organization's move towards accreditation to ISO/IEC 17020: 2012 Conformity assessment— Requirements for the operation of various types of bodies performing inspection.
The CSCP involves a series of inspection activities for compliance to mandatory standards being enforced by the SLBS.  The activities include surveillance and monitoring which includes the collection of samples of products for which compulsory standards exist for assessment by the SLBS. Under the previous sampling scheme, sample sizes were deemed to be too small where consignments were large and therefore could not support conclusions based on results from tests conducted.
Head of Department – Compliance Mr. Hubert Reynolds says that the SLBS could not continue to rely on the results of tests with the sampling size of the old scheme being inadequate with other units from a large consignment being reported as bad and failing subsequent testing.  The revision of the scheme now makes the sampling proportionate to the size of consignment to ensure the reliability of results and efficiency of recommendations for corrective action where needed.
The revision also supports efforts to strengthen processes of the CSCP for accreditation which involves capacity building, improvement in the institutional framework for the National Quality Infrastructure.  The new scheme responds to the need for the inspection regime to meet international standards and create access to national QI services from the Saint Lucia Bureau of Standards.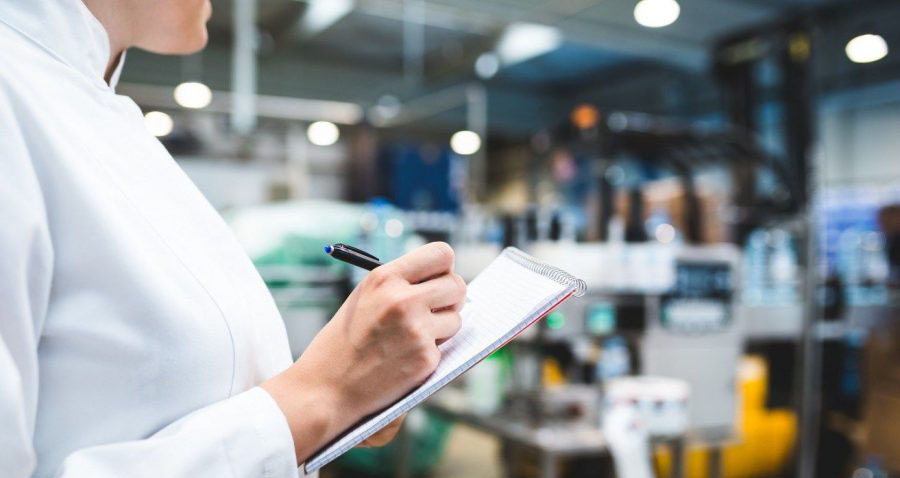 The new system allows importers to submit a valid third-party certificate certifying conformity to the relevant household electrical appliance standard. Conformity certificates are typically issued by conformity assessment bodies that are part of the IECEE CB scheme including Underwriters Laboratory, Intertek, SGS and others.
In the absence of valid third-party certification, importers/manufacturers are required to submit samples to the SLBS for testing. As of April 12, 2021, the sample size per product lot will be determined in accordance to the international standard ISO 2859-1 Sampling procedures for inspection by attributes – part 1: Sampling schemes indexed by acceptance quality limit (AQL) for lot-by-lot inspection as follows:
Inspection Table 1 below was generated from ISO 2859 – 1 Table 1 – Sample size code letters and Table 2-A – Single sampling plans for normal Inspection (Master table)
Lot Size

General Inspection Level: II

Sample Size

Acceptable Quality Limit (AQL = 0.010)

Ac. Re.

2 to 8

A

2

0   1

9 to 15

B

3

 

16 to 25

C

5

 

26 to 50

D

8

 

51 to 90

E

13

 

91 to 150

F

20

 

151 to 280

G

32

 

281 to 500

H

50

 

501 to 1200

J

80

 

1201 to 3200

K

125

 

3201 to 10 000

L

200

 

10 000 to 35 000

M

315

 

35 001 to 150 000

N

500

 

150 001 to 500 000

P

800

 

500 001 and over

Q

1250

 
The lot shall be considered acceptable if all items pass (number of fail items < 1). AQL is set at 0.010 – failed items indicate the product is not compliant with regulations and users could be harmed.
This revised sampling plan for the appliance-testing scheme is congruent with international standards and permits consistency across all inspections based on the risk present.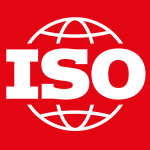 SLBS Observes World Metrology Day with a Focus on the Quality and Accuracy of Blood Pressure Meters
A wide cross section of the Saint Lucian public, including medical professionals joined the Saint Lucia Bureau of Standards to mark the observance of World Metrology Day on May 20th with a discussion on the quality and accuracy of blood pressure meters.
The SLBS hosted a webinar on the topic "Validation and Verification of the Accuracy of Blood Pressure Monitors" to re-engage and get commitment from medical professionals to apply into the programme for verification and validation. Blood pressure monitoring is a routine exercise in health protocols and ensuring that doctors and other health professionals are using reliable equipment in doing their jobs is critical.
Saint Lucia is confronted with the treatment of hypertension and support for improved efficiencies in blood pressure interventions is expected to strengthen Government Non-Communicable Disease (NCD) Policy.
The virtual meeting provided an opportunity for stakeholders to discuss the improvement of the regulatory framework  for  the  importation and use of  blood pressure meters on the island  by  reference  to  a  recently  published Pan American Health Organization (PAHO) paper and the updated OIML Recommendations for  verification of  blood pressure  meters. The OIML is the International Organization of Legal Metrology and legal metrology is the application of legal requirements to measurements and measuring instruments.

It was also an opportunity to review outcomes from the programme which started in 2014.  The objectives of the programme remain relevant with the need to promote confidence in the public about medical measurements and the prevention of possible erroneous low measurements of blood pressure which may result in patients not receiving valuable drug treatment or high measurements of blood pressure where individuals may be put on a lifelong   pressure lowering drugs unnecessarily. 
The discussion reinforced concerns about the impact on health and safety.  According to Head of Department Metrology, Anselm Gittens, "a failure in medical measurement is not an issue of customer dissatisfaction it is a concern with protection of life."
The theme for World Metrology Day 2021 is "Measurement for Health." This year's theme focuses on the important role measurement plays in health, and the wellbeing of everyone. A prevalence of hypertension or high blood pressure, a common non-communicable disease, NCD, in Saint Lucia, makes accurate blood pressure measurement by blood pressure meters critical to the treatment and management of the disease.
The SLBS welcomed the participation of medical professionals lead by the President of the Medical and Dental Association Dr. Merle Clarke who agreed to further engagements with her colleagues and the full involvement of the sector.
The Benefits of NQI to Country, Commerce and Citizenry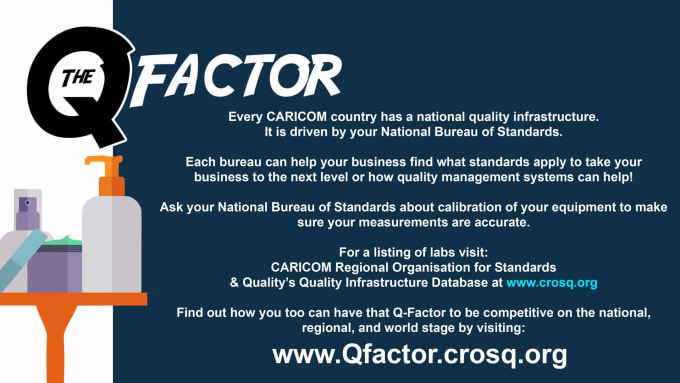 Saint Lucia is moving ahead with the implementation of a number of systems to strengthen its national quality infrastructure. The Saint Lucia Bureau of Standards is at the forefront of this endeavour having achieved accreditation of metrology services in verification, certification of the SLBS to ISO 9001:2015 and presently work is moving apace for the accreditation of the Compulsory Standards Compliance Programme.  The following feature from the CARICOM Regional Organization for Standards and Quality (CROSQ) explores the network of interconnected and interdependent organizations and activities working together to enhance a country's ability to trade globally and fuel the growth of local businesses through a robust National Quality Infrastructure.
Globalization has made it imperative for a paradigm shift in the way Caribbean countries do business. All Caribbean businesses are challenged to restructure their operations to meet international standards so that they can remain competitive.
A National Quality Infrastructure (NQI) is the first step towards helping Caribbean businesses improve their chances of competing internationally. The growth of Caribbean economies depends on it. As a Caribbean micro small and medium-sized enterprise (MSME) owner, it is time for you to tap into the benefits of an NQI so that you can get the support and guidance necessary to taste a piece of the success pie.
An NQI is national framework that guides the production of local goods and services based on agreed standards that follow international benchmarks.  Simply put, it is an interconnected and interdependent network organisations, activities and people working together to ensure the quality, safety and environmental soundness of goods, services and processes in a country.   The Jamaica and Trinidad and Tobago have been leading the Caribbean in establishing strong NQIs. Antigua and Barbuda, Saint Lucia, Grenada, Guyana and Suriname have also taken up the mantle and have begun the process of developing their own National Quality Infrastructures with the guidance and assistance of the CARICOM Regional Organisation for Standards and Quality (CROSQ). It is time for other Caribbean nations to follow suit.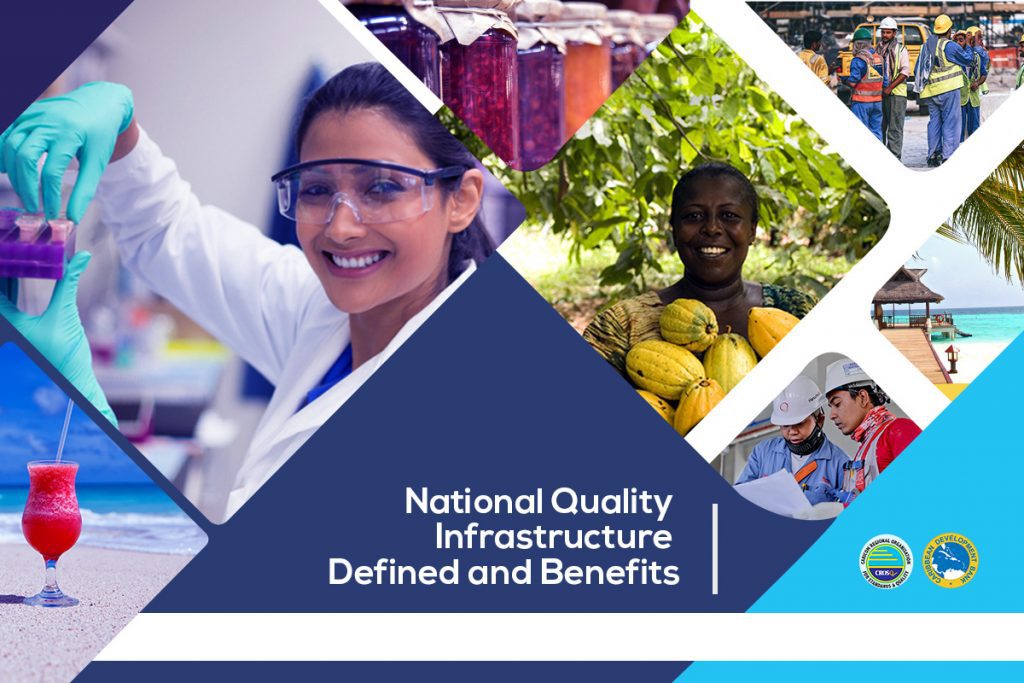 What are the 5 Core Components of an NQI?
The five core components of an NQI are:
Standardization: There is an established way of doing things nationally that enables local companies to compete globally.
Metrology: The science of measurement. Accurate measurements and measuring equipment are needed for honouring business contracts and protecting the health, safety, the environment and consumers.
Conformity Assessment (Testing, Inspection and Certification): Activities that determines whether a product, service, facility or management system, meets its documented standard.
Accreditation: Where an authoritative body validates that a certification body, testing laboratory or inspection body is independent, technically competent and proficient to carry out specific tasks.
Promotion: Raising awareness within a country through information and education campaigns on the importance of an NQI to promoting trade, protecting consumers and safeguarding the environment.
An NQI has a ripple effect on a country's citizens even if they are not directly involved in trade and manufacturing. Here are a few benefits:
Access to more jobs as companies employ more people to help them achieve international standards
Products produced by local companies are safer and more sustainable
Consumers are better protected
Opportunities to travel increase as governments are able to negotiate better trade relationships.
What are the Benefits of an NQI for Local Commerce?
A properly implemented NQI can spark a vibrant commercial industry that boosts the economy. Here's how:
The costs of international trade are reduced because local standards no longer compete with international standards
There are less barriers to international trade
Local companies become more competitive in the global marketplace
Innovation increases which leads to the production of even better products and services
Recognition of the importance of quality within the local business community and ability to use such as a benchmark.
What are the Benefits of an NQI for Caribbean Countries?
Since an NQI helps both a country's commerce and citizens, it stands to reason that these benefits extend to the country as a whole. Some additional benefits of an NQI to Caribbean countries include:
Ensuring that international standards and codes are being applied correctly across all industries
Creating consistency
Provides guidance for local producers which in turn makes them feel empowered
An increase in local commerce
Government officials being better able to represent the country in international fora and contribute to the creation of international rules
How Can Caribbean Countries Create a Strong NQI?
Follow the leaders. Jamaica and Trinidad and Tobago have been transparent in their NQI development process.  These countries understood that a National Quality Plan/Policy was necessary for the effective implementation of an NQI. 
It is for this reason that the CARICOM Regional Organisation for Standards and Quality (CROSQ) has received financing from the Caribbean Development Bank (CDB) in an amount equivalent to US$ 752,850 towards the cost of Strengthening of Regional Quality Infrastructure Programme. The first component of this project entails the development of three national quality policies using the regional quality policy.  The countries involved in the Quality Policy Development project include: Antigua and Barbuda, Suriname, and Grenada. 
A strong National Quality Infrastructure, for example, is necessary for Antigua and Barbuda with its heavy reliance on Tourism. For the tourism industry to remain competitive in the marketplace, providers of goods and services to the sector have to meet some industry standards and certification.  The project also involves the creation of a suite of awareness raising tools for the participating countries of Antigua and Barbuda, Grenada, Guyana, Saint Lucia and Suriname, which also serve as guidelines for other countries in CARICOM.
Creating an NQI isn't a one-shot strategy. It requires the coalescing of various stakeholders, planning, training, and awareness raising and buy-in from citizens, entrepreneurs. CROSQ is on a mission to help all Caribbean nations do what is necessary to establish strong NQIs.
Putting it All Together
An NQI is critical for the development of Caribbean countries. This scattering of countries are only small peas in the pod of a highly competitive global marketplace. MSMEs in Caribbean nations need support to ensure that their products and services meet international standards. An NQI provides a national framework that helps all businesses meet international benchmarks. Take your business to the next level by following the guidelines of your country's NQI.