Saint Lucia Bureau of Standards is awarded ISO 17025 Accreditation
The Saint Lucia Bureau of Standards has added another achievement to its list of successes.  The Metrology Laboratory in the field of Calibration has been issued an accreditation certificate to ISO 17025 General Requirements for the Competence of Testing and Calibration Laboratories.
ISO 17025 specifies the general requirements for the competence to carry out tests and/or calibrations, including sampling. It covers testing and calibration performed using standard methods, non-standard methods, and laboratory-developed methods. Accreditation means that the SLBS Metrology Laboratory has been assessed for the technical competence in calibration services and the calibration results produced meet the all specifications for technically sound findings.
The ISO 17025 accreditation builds on another award, that of certification to ISO 9001:2015.  Both achievements affirm the SLBS' ability to consistently provide quality products, services and deliver results which meet technical requirements globally. The SLBS Metrology Department was the recipient of the 2015 OIML Award for Excellent Achievements in Legal Metrology in Developing Countries, the only Caribbean country to achieve this honour to date.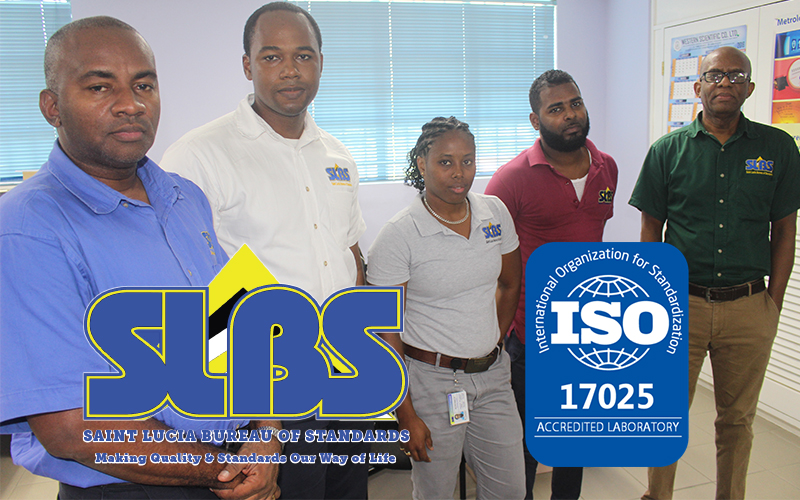 The SLBS is immensely proud that the accreditation award was given by a CARICOM institution, the Jamaica National Agency for Accreditation (JANAAC), making the SLBS Metrology Laboratory the first calibration laboratory to be accredited by JANAAC.
Director of the Saint Lucia Bureau of Standards Mr. Verne Emmanuel has commended the efforts of all involved, particularly the staff of the Metrology and Certification Departments.  The SLBS Director indicated that the Bureau as the organization with the mandate to administer and promote the national quality infrastructure ensures that its own systems and processes are robust and built on a solid foundation of standards and quality."
The scope of accreditation for Calibration is Mass and Volume, with an active plan for expansion into Temperature; the SLBS according to Mr. Emmanuel is focused on the areas of prioritized need for the economy, and accreditation gives the assurance that our metrology system is robust, credible and supports expansion of the local economy into global markets.
Funding for accreditation was provided under a CROSQ-CDB project, entitled "Strengthening of the Regional Quality Infrastructure", which saw the accreditation of a number of laboratories in the region, the development of National Quality Policies in some CARICOM Member States, and the rolling out of an awareness campaign about quality infrastructure targeting small- and medium-sized enterprises. The Caribbean Development Bank CDB and the CARICOM Regional Organization for Standards and Quality CROSQ extended congratulations to the SLBS on this milestone national and regional achievement.
For more information contact Head of Department – Communications, Vernet St. Omer-Fontenelle v.fontenelle@slbs.org or 453-0049/720-8756