The Prime Minister of Saint Lucia, the Honourable Philip J. Pierre received a courtesy call from Mr José E Trejo, Executive Director, Trinidad and Tobago Bureau of Standards (TTBS) and Dr Alison Gajadhar, Saint Lucia's representative to the International Organization for Standardization (ISO) Technical Committee (TC) 309 (ISO TC 309) via the Saint Lucia Bureau of Standards (SLBS), together with the senior leadership of the ISO TC 309 Governance of Organizations, at the Hyatt Regency on  Tuesday 18th April, 2023.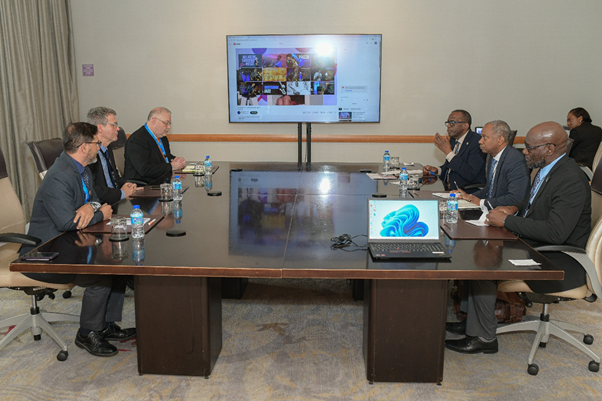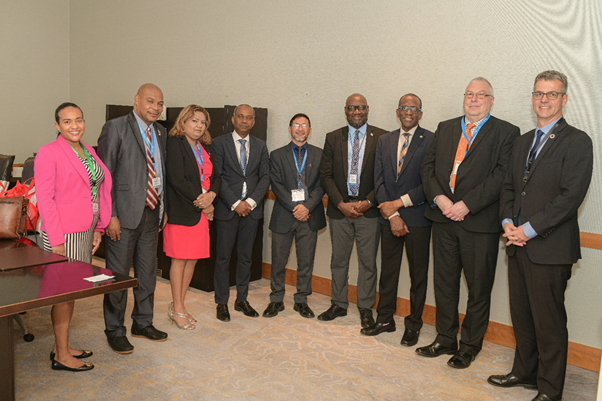 In attendance were; Mr Kevin Brear, Chair of ISO/TC 309, Dr Axel Kravatzky, Vice-Chair of ISO/TC 309, Mr Fulgence St Prix, Technical Officer – Standards, CARICOM Regional Organisation for Standards and Quality (CROSQ) and Ms Nadita Ramachala, Manager, Standardization Division, TTBS.
Some of the key discussion points at this meeting included the development and potential application of ISO 37000 suite of governance-related standards which has already been adopted by TTBS as national standards, as well as other CARICOM Members including Saint Lucia:
Governance of organizations – Guidance (TTS/ISO 37000:2022)

Anti-bribery management systems – Requirements with guidance for use (TTS/ISO 37001:2022)

Whistleblowing management systems – Guidelines (TTS/ISO 37002:2022)

Compliance management systems – Requirements with guidance for use (TTS/ISO 37301:2022)
These standards were presented as useful tools to assist in addressing critical dimensions of crime within the CARICOM region, for example, corruption, anti-money laundering, fraud controls, effective law enforcement.
The standards also address ethical issues, improve compliance requirements especially with regard to evolving regulatory requirements in the area of ESG (Environmental, Social and Governance) and support the development of the public sector to improve service delivery and strengthen regulatory systems, in areas such as whistleblowing and anti-bribery initiatives.
Through the ISO 37000 suite of standards, organizations, no matter their size, will be provided with critical guidance to improve their governance practices, these standards play a transformative role to national development and are cross cutting for public and private institutions. At the regional level with regard to the CARICOM Regional Organisation for Standards and Quality, the development of standards for governance is also coming to fore, given the common problems related to corruption, inadequate whistleblowing systems and the heightened need for improved trust and accountability. As such, governance is a high priority in the recently approved Regional Standards Development Priority Plan (RSDPP) 2022-2027.
As a full Member of ISO, TTBS is currently hosting the 9th Plenary Meeting for ISO/TC 309 at the Hilton Trinidad and Conference Centre, Port of Spain from 17th April to 21st April, 2023. Participation in this Technical Committee is a critical aspect of TTBS' National Standardization Strategy and supports the further strengthening of the National Quality Infrastructure in alignment with the Cabinet-approved National Quality Policy 2018-2030 for Trinidad and Tobago.
This international meeting brings together experts from 80 countries to discuss and develop International Standards related to Good Governance. TTBS remains committed to the development and adoption of national, regional and international standards to advance the socio-economic development of Trinidad and Tobago.
 For more information call the Saint Lucia Bureau of Standards at 453-0049.